GlenAllachie 15 Year Old Speyside (700ml)
Tasting Notes

Baking SpiceRaisinToasted Oak
The GlenAllachie Distillery was one of the few post-war distilleries designed by William Delmé-Evans and focused on using gravity-fed methods to reduce energy requirements. The distillery was built in 1967 and began its first production run in 1968. For most of its life, the GlenAllachie Distillery was a production distillery used to produce large quantities of malt whisky for use in blends like Chivas Regal and Clan Campbell. It wasn't until the 1990s that the distillery saw its first official bottling.
Tasting Notes
Rich mahogany in colour. Waves of heather honey, dark chocolate and figs, with notes of fruit cake, mocha and cinnamon. Lashings of fig syrup, mocha and treacle, followed by dark chocolate, sweet spices and heather honey, fused with ginger on the finish.
Method
Almost five years since the GlenAllachie Distillers Company was formed, bringing the distillery back into private ownership, this very special expression of Scotch was released as an extension of the company's core range. The Master Distiller, Billy Walker, has worked tirelessly on perfecting this expression since day one; evaluating casks and refining recipes to create something special. This is a product  GlenAllachie proudly calls the 15 years old Scotch the jewel of their portfolio.
The GlenAllachie 15 Year Old is bottled at 46%, non chill filtered and natural colour.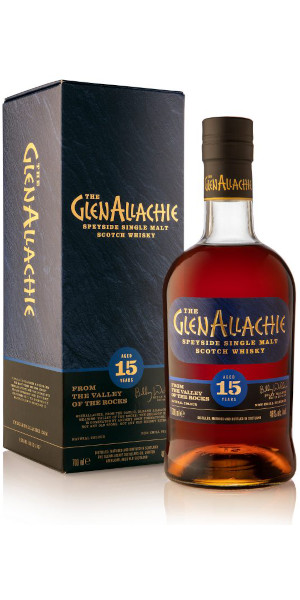 You may also like...