Hacienda El Ternero Rioja Seleccion La Pera Rioja Blanco (750ml)
Region

North Central Spain

Grape

Tempranillo BlancoGarnacha BlancaSauvignon BlancViura

Farming Method

ConventionalMost products with this label come from producers who do their best to avoid any intervention at all but it's possible that some of the aforementioned preventative measures and additions are deemed necessary. Learn More

Food Pairing

AperitifCold SaladsGrilled Fish
The origins of Hacienda El Ternero date back to 1077, a time when it belonged to the Santa María de Herrera Monastery. In the heart of the hacienda, buildings from the 17th, 18th and 19th centuries now house the winery, whilst in the past they were used as the monastery, barracks, school and a hospice for pilgrims on the Camino de Santiago. In the centre, the Hacienda El Ternero hermitage watches over the Virgin of the Pear, the patron saint of the estate. This unique enclave at the foot of the Obarenes Mountains covers 250 hectares in the heart of the Rioja Alta. With almost one thousand years of history, time seems to have stopped at Hacienda El Ternero.
The vineyards, located at an average altitude of 650 metres and protected by the Obarenes Mountains, enjoy a privileged microclimate which is ideal for the cultivation of grapes, with cold, dry winters and warm summers. Hacienda El Ternero has a unique vineyard in one of the highest areas of Rioja, giving the vines a privileged location which is later captured in the essence of these wines. The shallow soil originates from a calcareous clay mixed with rounded stones, providing it with richness and aeration. All of this, combined with the orientation and different altitudes of the vines (some which are over 50 years old), favours the production of grapes with exceptional natural properties, ideal for the production of great aged wines with a unique character that stems from the terroir.
Tasting Notes
Unoaked, citrus and stone fruit clean and fresh style of Rioja. Crafted for everyday consumption.
Method
La Pera is a blend of 48% Tempranillo Blanco, 26% Viura, 14% Garnacha Blanca and 12% Sauvignon Blanc.  The grapes are sourced from the youngest vineyards, planted at an altitude of 680 meters in Rioja Alta.  Alcoholic fermentation takes place in temperature controlled in stainless steel tanks. 
Our Thoughts
Mainly Tempranillo Blanco with added Viura, Garnacha Blanca and Sauvignon Blanc, this big Rioja blend is quite aromatic; boasting both tropical and citrus fruits on the nose and firm salinity on the palate. The minerality makes it perfect for a variety of seafood dishes and grilled veggies but it also does well in your glass while you're cooking!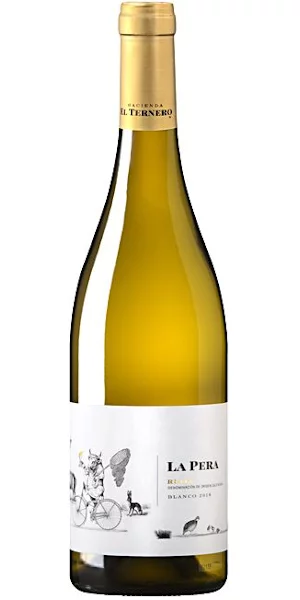 You may also like...
Express Shipping!
For select shipping postal codes, this product may be eligible for Express Delivery! Click here to learn more.