Lightfoot & Wolfville Scheurebe (750ml)
Food Pairing

AperitifSeafoodSpicy Foods
This family-owned winery in Nova Scotia's Annapolis Valley is dedicated to certified organic and biodynamic agriculture alongside Old World winemaking techniques.
Tasting Notes
Pale gold in the glass with light green flecks. Expressive and exuberant with a variety of fresh, tropical fruit on the nose – passion fruit and mango with hints of clover honey and cardamom. On the palate, "liquid sunshine" comes to mind. The ripe, tropical fruit notes are accompanied by a savoury streak. The finish is slightly off-dry yet balanced with beautiful cool-climate acidity.
This is a charming, refreshing white that is the perfect accompaniment for bright sunny days. Pair with aromatic dishes of moderate spice, washed rind / blue cheeses, prosciutto with peach and mint, or with fresh fruit for dessert.
Method
Relatively obscure in North America, with less than 10-acres planted in all of Canada, Scheurebe is a German vinifera grape variety and relative of Riesling (a crossing of Riesling and Silvaner) that is characterized by an exuberantly aromatic and tropical profile.  It is pronounced "Shoy-ray-bah".  It is grown mainly in Austria and Germany (and now in Nova Scotia!) and, like Riesling, makes a range of balanced wine styles; from sweet to dry.
Nova Scotia's cool-climate provides freshness and vibrancy, melding with the inherent aromatic intensity of the Scheurebe grape to create a truly unique expression. This is a single-vineyard wine from Lightfoot and Wolfville's Oak Island Vineyard site in Avonport, made from certified organic (Ecocert) and biodynamic (Demeter) grapes. The warmth of the 2020 growing season helped to provide intense, ripe fruit flavours. 
Our Thoughts
"Best in Class – White Wine"
"Best of Class – Single Varietal White Wine – Vinifera"
2017 Atlantic Canadian Wine Awards.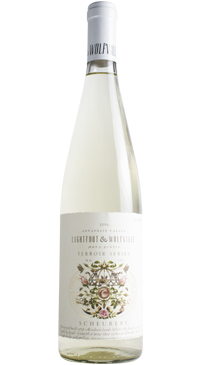 You may also like...