Farming Method

ConventionalMost products with this label come from producers who do their best to avoid any intervention at all but it's possible that some of the aforementioned preventative measures and additions are deemed necessary. Learn More

Food Pairing

PorkSpicy FoodsWarm Vegetable Dishes
Since planting its first vineyard in 1996, Malivoire has pioneered an innovative, eco-centric approach to wine growing on the Beamsville Bench in the Niagara Peninsula. Malivoire currently draws the largest share of its grapes from several vineyards comprising a combined 40 hectares. These are located within the Beamsville Bench, Lincoln Lakeshore, Vinemount Ridge and Twenty Mile Bench Sub-designated Viticultural Areas, which lie within the Niagara Peninsula's Niagara Escarpment Sub-appellation.
Shiraz Mottiar is the head winemaker at Malivoire. He studied Cool Climate Oenology and Viticulture at Brock University and was a member of its' first graduating class in 2000. After graduation, he joined the staff of Malivoire as a cellar hand and within a year he had been promoted to Assistant Winemaker. In 2002 Shiraz was given temporary leave to take his skills to the Yarra Valley of Australia for a vintage abroad before.
In 2021 Malivoire was recognised by the National Wine Awards of Canada as winery of the year after it claimed a total of 17 medals in that year's competition by a panel of expert judges in a field of 260 competitors, including the most Platinums ever awarded to one winery.
Tasting Notes
Scented of cherry blossom, strawberry compote, raspberry and a sprinkle of white pepper, the wine is bright juicy on the tongue. Ripe red fruits carry to the palate with additional splashes reminiscent of plum and crunchy pomegranate. A trace of oak-vanilla lingers. Serve with a slight chill and enjoy with roast chicken, pork sausages, mild vegetarian curries.
Method
Gamay clusters were sourced between September 30th and October 8th from Four Mile Creek, Beamsville Bench and Twenty Mile Bench sites as grape sugars averaged 22° Brix.  Most of the grapes were destemmed and crushed, but 6% remained in whole clusters.  For primary and malolactic fermentation, the greater share went to stainless steel, but 13% was treated in concrete tank.  The new wine was then divided, two-thirds to age in stainless steel and one-third to neutral (eight-or-more-year-old) oak barrels.  The finished product was blended and bottled six months later.   This is a vegan friendly wine. 
Our Thoughts
The Malivore Gamay has fruity aromatics that jump from the glass but there is a slight earthy note that adds some interesting depth. On the palate this wine is lightweight but not lacking in flavour or complexity. This is great wine for any night of the week as it can be enjoyed on its own or with almost any dish you can throw at it. Enjoy!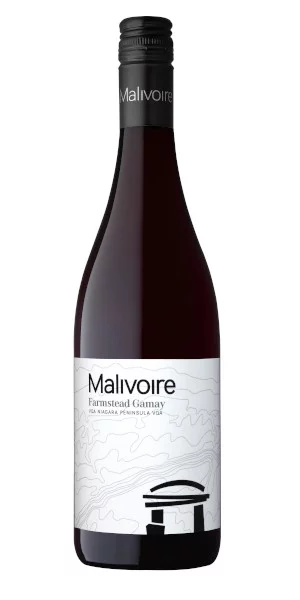 You may also like...