Marques de Tosos Gran Reserva (750ml)
Grape

Cabernet SauvignonGarnachaTempranillo

Food Pairing

Grilled VegetablesLambRoast meats
Located in the heart of one of the most historic denominations of origin in Spain, the Cooperativa Vinícola San Valero is the result of the fusion of ancestral knowledge with the new contributions of research, development and innovation in the wine sector. The cooperative was founded in 1944 by a group of 66 farmers in the area and has since grown to bring together more than 500 vine and wine professionals. The cooperative is highly regarded in Spain and internationally for its production of high quality and excellent value wines, including its large organic range.
Marqués de Tosos was established in 1984 as the line of vintage wines produced at Bodega San Valero. Originating in the vineyards of Monte Alcañiz, a region also known as Dehesa de la Marquesa, these wines are characterised by their highly expressive quality due to the contrasts in temperature found in this terroir.
Tasting Notes
In this grand reserve, Marqués de Tosos reaches its maximum expression. The grapes, selected with utmost care, along with prolonged periods of ageing in the barrel and subsequent resting in the bottle, endow this excellent red with an array of highly complex aromatic nuances, leaving an explosion of taste on the palate. Ruby red, with an brick orange rim denoting age. A generous array of complex aromas evoking wood notes. Medium bodied, dried fruit, savory, spicy with a pleasant mid length finish.
Method
Maceration and fermentation in stainless steel tanks for 10 days at a controlled temperature of 26-28 ºC.  Aged for a minimum of 60 months, with at least 18 months in oak barrels before being left to rest in the bottle.  The personality of this wine is maintained by not subjecting it to the cold stabilization process. Consequently, there may be some sediment, this being symptomatic of a natural product.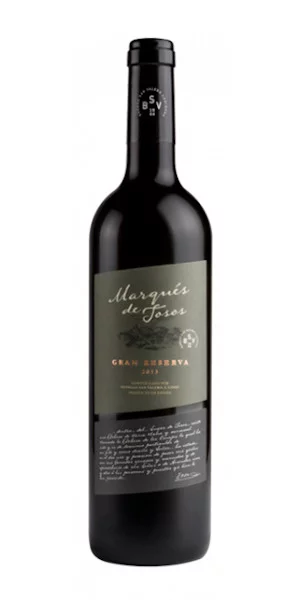 You may also like...