Miller – High Life Lager 15pk (5325ml)
Beer Category

Commercial Lager

Beer Style

Pale LagerBrewed with only pale malt for delicate malt flavours, and subtly balanced with European hop varieties that offer herbal, floral, and some spice character. Learn More

Tasting Notes

CrisprefreshingSmooth
The Miller Brewing Company was founded in 1855, in Milwaukee, Wisconsin by Frederick Miller – one of many German immigrants to America in the mid-1800s. This initial wave of German immigrants also coincided with the new Pilsner beer that was gaining intense popularity in continental Europe. These original families like Miller, Busch, and Pabst (sound familiar?) helped bring the original Pilsner style to America, where since then it has become the worlds most popular selling style of beer.
Miller has since been bought and sold, and currently is owned by the Molson/Coors group.
Tasting Notes
Light, refreshing, big carbonation, clean, dry finish. It's a classic for a reason – High Life is one of North Americans best selling lagers, largely due to it's approachable and easy drinking nature. And it's the Champagne of Beers for crying out loud!
Method
An American Lager, known for it's smooth and crisp finish, and easy-going flavours.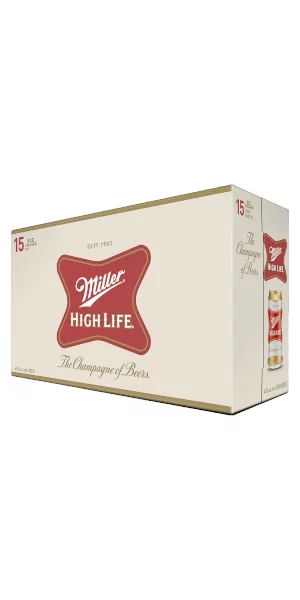 You may also like...