Modelo – Especial Lager 6pk (2130ml)
Beer Category

Commercial Lager

Beer Style

Pale LagerBrewed with only pale malt for delicate malt flavours, and subtly balanced with European hop varieties that offer herbal, floral, and some spice character. Learn More

Region

Greater Mexico City

Tasting Notes

MaltyrefreshingSmooth
With origins in the 1920s, Modelo was first brewed alongside fellow local beer Corona at the Mexico City brewery Cervecería Modelo in 1925. For decades, these two beers dominated Mexican beer culture before eventually making their way to the U.S. In 1990, Modelo Especial introduced American beer drinkers to a different kind of Mexican beer: a full-flavored lager rich with a smooth taste and crisp finish.
Since the early 2010's Modelo has been under the ownership of AB-InBev.
Tasting Notes
Pouring a crystal clear brilliant gold colour with long lasting white foam. This lager has rich aromas of freshly baked bread, subtle honey, and a floral and herbal hop aroma. The palate drinks very smooth and is balanced nicely thanks to refreshing carbonation and just the right amount of bitterness.
Method
Still produced in Mexico City, Modelo Especial Lager is brewed with the same specifications and techniques used by traditional German Pilsner brewers. Pilsner malts and Noble German hops are used today as they were almost 100 years ago.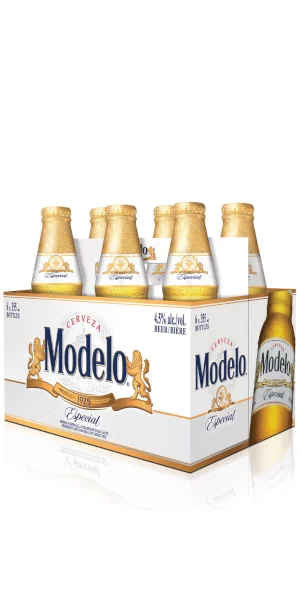 You may also like...