Mongozo – Gluten Reduced Pilsner (330ml)
Beer Style

German PilsnerA lighter, more "snappy" texture; drier on the finish, often displaying more hop bitterness and aroma. Learn More

Tasting Notes

Crispherbalrefreshing
The Huyghe Brewery in Melle, Belgium is under it's 4th generation of family ownership, and one of Belgium's largest. They have a large range of beers they produce, as well as a partnership with the monastery that brews Averbode beer. They are most known for Delirum Tremens, Fruli Strawberry beer, and Mongozo Pilsner.
Tasting Notes
**Gluten Reduced**
The beer has a mild, slightly bitter, hoppy flavour that's characteristic of Pilsner and is easy and refreshing to drink. The beer is brewed using only high-grade, certified-organic barley malt, rice and hops. The rice used also has Fairtrade certification.
Method
Brewed using organic barley malt, organic hops and FairTrade certified organic rice. The brewing process for obtaining a gluten-reduced beer can vary, and in the case of Mongozo Premium Pilsner it involves the gluten being removed from the beer at two stages. This innovative technique ensures that the beer retains its original lager flavour. An independent laboratory checks each batch of beer brewed for the presence of gluten. Mongozo contains less than 3 ppm of gluten and is therefore well within the limits for gluten-reduced labeling.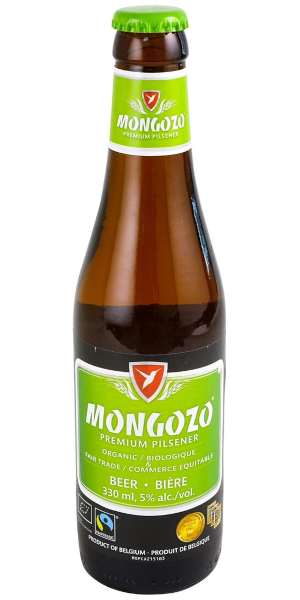 You may also like...