Nine Locks – Dirty Blonde 473ml x 4pk (1892ml)
Beer Style

American Blonde AleAmerican hop varieties are used that provide subtle citrus and herbal notes; often cold conditioned or lagered to create a light and refreshing palate. Learn More

Tasting Notes

BalancedherbalSmooth
Nine Locks Brewing Co. began like many of today's larger craft beer companies, with a small brewpub making great beer. Shaun O'Hearn, president and co-founder of Nine Locks Brewing Company, was a restaurateur for years before he discovered craft beer, but when he did he loved it so much he built a brewpub under his Halifax landmark pub and eatery, Your Father's Moustache. Before long, the craft beers they were brewing were so popular, fans of his beer were telling him that he should package it to sell in local beer stores. Unfortunately, his liquor license only allowed him to sell his beer in the restaurant. After hearing this repeatedly, Shaun decided that it would be a good idea to take the beer to the next level.
In the summer of 2014, discussions turned into planning, and then that turned into securing a location, and before they knew it, they were building a brewery.
Tasting Notes
Light, crisp, effervescent, and thirst quenching. Bready, grainy wheat notes give way to a slightly tart, acidic finish. Nine Locks Dirty Blonde is the perfect choice for a summer barbeque or a night out with friends.
Method
Nine Locks Dirty Blonde is a North American-style wheat beer brewed with Canadian wheat and barley. Intentionally light, easy drinking, and inoffensive. Great for any place, anytime!
Express Shipping!
For select shipping postal codes, this product may be eligible for Express Delivery! Click here to learn more.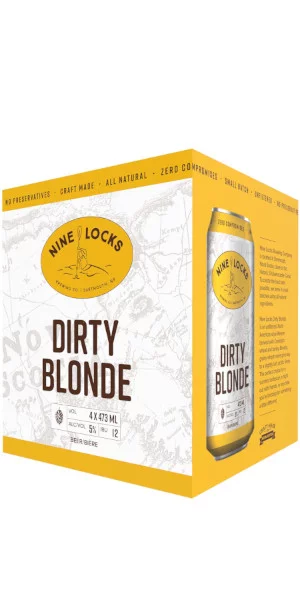 You may also like...