Saint Cosme Gigondas Le Poste (750ml)
Food Pairing

LambRoast meatsStew

Farming Method

OrganicAll of our products that are tagged with the term Organic are either organic certified or organic practicing. Learn More
Saint Cosme – located north to the village of Gigondas – is the most ancient estate in the region (evidence of a Gallo-Roman villa on the site date to 1416!). The diversity of soils and cool micro-climates encourages slow, even and late ripening of grapes. The dedication at Saint Cosme is total; they want to best express the extraordinary potential of the terroir. Years of experience, old vines and organic viticulture are also key contributing factors to the high quality of Saint Cosme wines and their elegant house style.
Tasting Notes
Le Poste's cool microclimate and limestone soil make it one of Saint Cosme's most structured, aromatic, and mineral intense wines of the estate. This wine always walks a knife's edge of power and finesse thanks to its deep fruit and precise structure. The wine features aromas and flavors of iodine, violet, pepper, and ash.
Method
Château de Saint Cosme «Le Poste»  is crafted from old vine Grenache grown on Tortonian limestone marl hillsides at Saint Cosme chapel, in the 'Le Poste' vineyard.  The wine is made with whole cluster fermentation from indigenous yeasts, aged in 20% new 228-liter barrels, and bottled without fining or filtering. Only six barrels are produced each year.
If one place at Saint Cosme illustrates the notion of 'place', it has to be Le Poste, such is the ease with which it can be identified. Its unique topography and geology make it a source of inspiration for the imagination.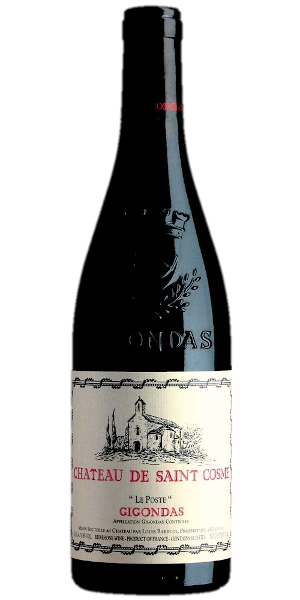 You may also like...