The Church – 902 IPA (473ml)
Beer Style

New England IPALeans heavily on late, dry hopping techniques to deliver a bursting juicy, tropical hop experience. Learn More

Tasting Notes

BitterFruityvibrant
The Church Brewing Company started with two brothers originally from Nova Scotia who moved out west. They've since come back home to start up their dream brewery. The Church brews German and Belgian inspired beers in their brewery which used to be an old church. The team worked hard to restore the building and give it a new life as one of Nova Scotia's most unique breweries!
Tasting Notes
A great balance between malt body, and hop flavour. Notes of orange, tangerine, grapefruit, and citrus peel. 902 is a soft, juicy IPA with a notable upfront bitterness. Big citrus aroma, smooth body with bright hop flavour. Finish is clean, and refreshing.
Method
Emphasising hop aroma and flavour without bracing bitterness, the New England IPA  leans heavily on late and dry hopping techniques to deliver a bursting juicy, tropical hop experience. The skillful balance of technique and ingredient selection, often including the addition of wheat or oats, lends an alluring haze to this popular take on the American IPA.
Church Brewing studied the evolution of 2000 era American IPA's to find the perfect balance between a traditional West Coast IPA and the hazy New England IPA. 2 years of test brewing, 4 tastings beside Nova Scotia's favourite IPAs, and 45kg of hops later they think they have perfected the East Coast
IPA. Brewed with Magnum, Azacca, Simcoe, and Falconer's Flight hops.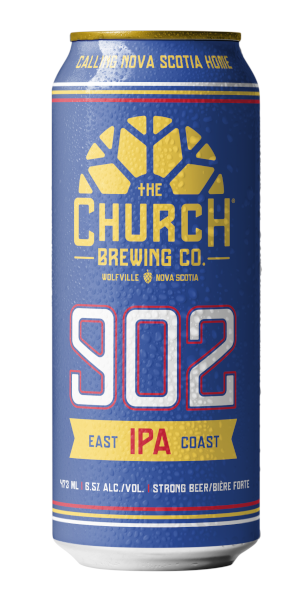 You may also like...