Venturini Baldini Montelocco Rosso (750ml)
Farming Method

OrganicAll of our products that are tagged with the term Organic are either organic certified or organic practicing. Learn More

Food Pairing

Ravioli BolognesePizzaProsciutto
Venturini Baldini was founded in 1976 on an historic 16th century estate in the hills between Parma and Reggio Emilia, the heartland of Lambrusco wine making. Of their 135 hectares, only 30 hectares are vineyards, the remainder being left as wild woods and pastures that buzz with life and biodiversity. As one expects from great sparkling wine farming, Venturini's vines are planted among the south facing slopes of their sandy clay foothills that roll from 300-400m above sea level with excellent drainage and a wide diurnal temperature. Moreover, Venturini was among the first in the region to obtain organic certification (1976). Their name has been synonymous with the highest quality Lambrusco for decades now.
They were fortunate to have one of Italy's best-known winemakers, Carlo Ferrini, overseeing their wine production since 2015. His professional career spanned more than 40 years of working with many iconic Italian wine estates. In early 2021, Venturini Baldini announced Ferrini's retirement from the estate and replacement by the equally famed Riccardo Cotarella , widely considered Italy's number one Eonologist at present. The wines continue to impress local and international markets.
Tasting Notes
This is an extra dry style and the fruitiest and most fun Lambrusco made by Venturini. The ample fruit is balanced by racy acidity and subtle tannins. Serve this sparkling red chilled and enjoy all of its juicy black cherry and Mediterranean herb flavors alongside a plate of charcuterie, meat ravioli tossed with brown butter and sage or a pizza party with friends and family.
Method
Made from estate grown organic Lambrusco Salamino grapes.  The vines grow on clay sand soil at an altitude of 240m above sea level. The wine gets its pleasant frothy bubbles via a second fermentation in tank called Charmat Method; the same method used for producing Prosecco.  This extra dry style has 16 g/l RS, making it a bit sweeter than a Brut but incredibly balanced and gulpable. 
Our Thoughts
Delightful aromatics of dark fruit (cherries and blackberries) on the nose; the fruit is tart on the palate accompanied by the slightest hint of dark chocolate. The bubbles are soft and frothy and there is just a hint of tannin to give the wine structure. An ideal pairing with any salty food but a friday night, on-your-way-home-from-work greasy pepperoni pizza and Lambrusco Salamino is a perfect match.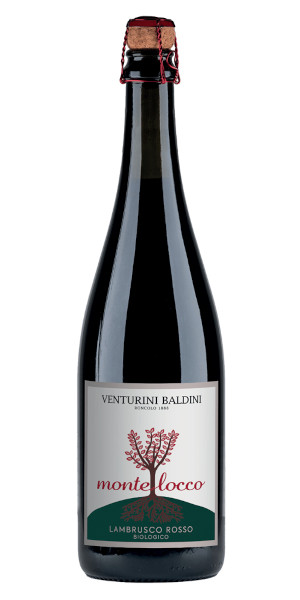 You may also like...
Express Shipping!
For select shipping postal codes, this product may be eligible for Express Delivery! Click here to learn more.