Bouchon Pais Viejo (750ml)
Farming Method

OrganicAll of our products that are tagged with the term Organic are either organic certified or organic practicing. Learn More

Food Pairing

Grilled FishPasta DishesPizza
Bouchon Family Vineyards' history began with an adventurous young French man's dream almost a century and a half ago. Emile Bouchon left his little home of small winegrowers in Arveyres, near Burdeos, France, to board on a ship, towards Chile in the spring of 1887. Emile came hired as a winemaker adviser and throughout many years of efforts, he was able to purchase an antique wine cellar in Colchagua Valley, turning it into one of the most prominent vineyards of that time. His his children and eventually his grandson would continue his legacy. His grandson Julio studied enology in Bordeaux and expanded the Bouchon project. He fell in love with the granitic soils in the interior dry area in Maule Valley, acquiring Mingre state in 1977, a distant property, which had old dry farming vineyards, besides a cement tanks cellar and simple adobe constructions, some of them from the middle of the XIX century.
Today the winery is operated by the fourth generation of the Bouchon family and a team of expert viticulturalists and winemakers working on continued innovation in the vineyards and winery with the goal of producing delicious wines.
Tasting Notes
País Viejo it's a grape that pays homage to the wine history of Chile. Bright cherry in the glass, fruity aromas of strawberry and tart cherry hints of dry herbs stand out. The mouth is very juicy, fresh and pure. This is a bright and youthful red wine that makes an alternative aperitif and could also pair with fish. Delicious with light pasta dishes and pizza. We suggest not serving it too warm and is ideally served at 14-15°C or even cooler if enjoying it as a starter.
Method
País Viejo is a wine made with País grapes from old vines in the coastal dry land of Maule. The País grape variety arrived in Chile in the 16th century. It is a red, rustic, very resistant vine that is grown as a free standing vine (aka head trained . bush trained) without wires.  It is an honest and authentic wine that plays homage to Chile's past.  
The grapes for this wine are sourced from Mingre and Huerta de Maule. The soil is very old, granitic sandy loam formed from granite from the Coastal Mountains, full of quartz and other minerals.  The vines are over 100 years old and the grapes are handpicked in small crates, destemmed and wild fermented in old concrete tanks. The alcoholic fermentation starts naturally with native yeast for 14 days without additives.
Our Thoughts
Dry farmed, old vines País is exactly what you think about when pairing wine with that special occasion dinner, right? Well, maybe that's just me but I highly recommend you pick up our newest release from Bouchon Family Vineyards. The bright, fresh fruit jumps out of the glass with aromas of cherry and cranberry; light, pure, and juicy on the palate makes this is the perfect crowd pleaser and a great alternative to Gamay.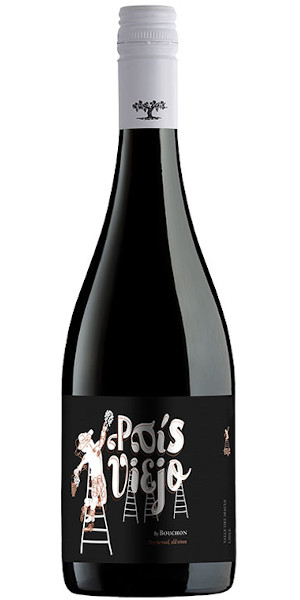 You may also like...
Express Shipping!
For select shipping postal codes, this product may be eligible for Express Delivery! Click here to learn more.