Brasserie Dupont – Saison Dupont (750ml)
Beer Category

Farmhouse Ale

Tasting Notes

BitterComplexSpicy
Just 10km from France in the Wallonian region of Belgium lies Brasserie Dupont. They started as a farm in 1759, and became a farm brewery in 1844. Oliver Dedeycker is 4th generation owner of Dupont, and has been committed to maintaining the time tested methods of producing this beer. From the old gas burner under the boil kettle, the open square fermentation tanks, and laying the bottles on their side for secondary fermentation (much like traditional method sparkling wine), Brasserie Dupont continues to make some of the worlds utmost benchmark farmhouse ales.
Tasting Notes
With yeasty aromas of citrus, freshly cracked pepper, and cracker that leads into a lively carbonated palate with firm bitterness. Dupont finishes dry and has a remarkably refreshing quality.
6.5% abv
Method
This is Brasserie Dupont's flagship beer since 1920. Always made the same way, with the same ingredients, using the same house yeast culture that Oliver's grandfather cultivated in the 1940's. The beer is fermented in open old square tanks, and then again in the bottle until the brewery decides it's ready. The boil kettle is still flame powered, giving a subtle caramelization. The house yeast culture ferments around 3o-35C which for any conventional ale yeast is exceptionally high.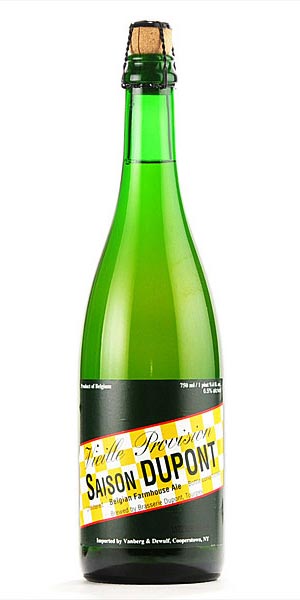 You may also like...