Bulwark – Original Cider (473ml)
Tasting Notes

BalancedCrispDry
Muwin Estate is the name behind Bulwark Ciders. Owner operated and based in the heart of Nova Scotia, this local team is directly involved with the development and success of Bulwark Cider. Made up of specialists from all walks of life, they're dedicated to a common unifying goal: authentic, natural, delicious cider.
Situated on five acres of fruit orchards and berries in New Ross, Nova Scotia, the company produces fruit wines and ciders under the Bulwark label.
Tasting Notes
Bulwark original has a faint hint of spice followed by the Bulwark Original signature flavour that is achieved through their careful blending of five varieties of freshly-pressed Nova Scotia apples grown in the famed Annapolis Valley.
The dry start is quite complex without the intense sharpness often associated with many traditional dry ciders. It moves quickly from dry to an almost wine-like and slightly mineral fruitiness before relaxing into a nutty floral finish. Great on its own or on ice.
Method
Bulwark Original cider is produced using 100% pure juice extracted from luscious crops of apples hand-picked from estate fruit and neighbouring farms. Bulwark uses its signature "5 apple blend" that combines a perfect balance of acidity, sweetness, tannis, and fruit flavour to make sure  every batch is consistent and approachable.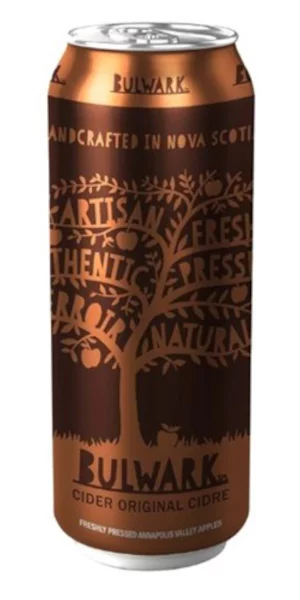 You may also like...