Luckett Grape Thief Red (750ml)
Sub-Region

Gaspereau Valley

Grape

L'Acadie BlancLeon MillotRiesling

Farming Method

ConventionalMost products with this label come from producers who do their best to avoid any intervention at all but it's possible that some of the aforementioned preventative measures and additions are deemed necessary. Learn More

Food Pairing

Grilled MeatCharcuteriePasta with Tomato Sauce
From greengrocer to grape grower, Pete Luckett's hard work, eye for detail and enthusiasm has made him successful in all of his business ventures. It was only natural that Pete plant a vineyard and open a winery on his breathtaking Gaspereau Valley property. Today, Luckett vineyards is operated by Pete's daughter Geena Luckett. Winemaker, Mike Mainguy, produces a selection of wines and styles to suit all tastes.
Tasting Notes
This is a medium bodied juicy red that is wonderful served slightly chilled. Fresh raspberry and tree-fruit notes on the nose. The palate is fruit forward, dryish with lots of red berry flavours, cocoa and subtle floral notes. This unoaked and primary fruit driven red with pairs well with barbeque, grilled meats, tomato-based pastas and charcuterie.
Method
Made from 100% Nova Scotia grown grapes from Luckett Estate as well as Cadrain Vineyards (Aylesford).  Partial whole berry and crushed Leon Millot, gently pressed and co-fermented with a component of L'Acadie Blanc and Riesling.  Individual components add strong fruit forward aromatics, with a rounded low tannin texture and a balanced mouthfeel.  All stainless-steel fermentation for pure fruit expression.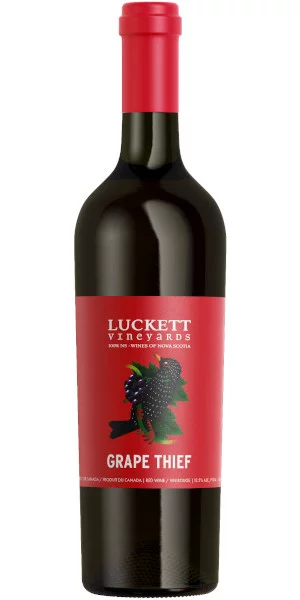 You may also like...
Express Shipping!
For select shipping postal codes, this product may be eligible for Express Delivery! Click here to learn more.