Birra Moretti – Original Lager (1980ml)
Beer Category

Commercial Lager

Beer Style

Pale LagerBrewed with only pale malt for delicate malt flavours, and subtly balanced with European hop varieties that offer herbal, floral, and some spice character. Learn More

Tasting Notes

CrispLightrefreshing
Birra Moretti is one of Italy's oldest continually operating breweries, having established themselves in 1859 in Udine. In 1996 Moretti was bought by Heineken. While Moretti makes a large range of beer, including some "craft" options like IPA, sours, and fruit beers mostly for consumption in Italy, they are most known for the Original Lager.
Tasting Notes
This is a classic International Pale Lager, light and easy going aromas of water cracker, fresh bread dough, and subtle spicy floral hop aromas. Carbonation is high, and the finish is clean and crisp.
Method
Birra Moretti is a quality International Pale Lager made in the traditional way. It is the result of a production process that has remained almost unchanged since 1859. The best raw materials are used to make Birra Moretti, as well as a special blend of high quality hops that gives it a unique taste and fragrance, enhancing its perfectly balanced bitter taste.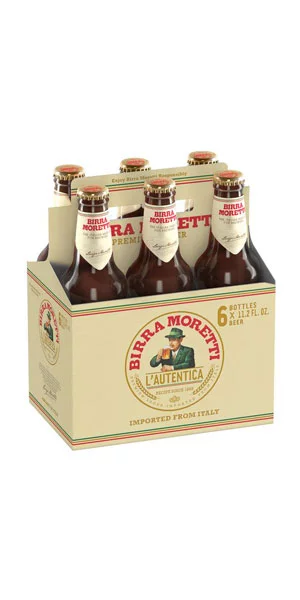 You may also like...
Express Shipping!
For select shipping postal codes, this product may be eligible for Express Delivery! Click here to learn more.