Peroni – Nastro Azzuro Lager 6pk (1980ml)
Beer Category

Commercial Lager

Beer Style

Pale LagerBrewed with only pale malt for delicate malt flavours, and subtly balanced with European hop varieties that offer herbal, floral, and some spice character. Learn More

Tasting Notes

CrisprefreshingSmooth
Peroni Brewery was founded by Francesco Peroni in Vigevano, Italy in 1846. It is best known worldwide for its pale lager, Nastro Azzurro.
By 2016, Peroni was owned by Miller Brands U.K. of SABMiller. As part of the agreements made with regulators before Anheuser-Busch InBev was allowed to acquire SABMiller, the company sold Peroni to Asahi Breweries on 13 October 2016.
Tasting Notes
Peroni Nastro Azzurro is gently brewed to give an intensely crisp, refreshing taste. Clear, bright golden colour; creamy, yeasty, malty aromas; refreshing, palate with a light bitterness.
Method
Brewed in Italy to the original recipe since 1963, Peroni Nastro Azzurro exemplifies the traditions of Italian craftsmanship. Created to reflect the emergence of Italian luxury in fashion and design, it was designed with the sharp, sophisticated beer drinker in mind.
Just like the classic International Pale Lagers from the world over, Peroni is simple and clean. Just what you want for a warm Summers day.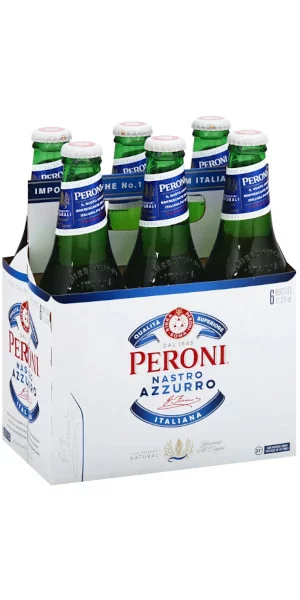 You may also like...
Express Shipping!
For select shipping postal codes, this product may be eligible for Express Delivery! Click here to learn more.