Singha – Pale Lager Beer 6pk (1980ml)
Beer Category

Commercial Lager

Beer Style

Pale LagerBrewed with only pale malt for delicate malt flavours, and subtly balanced with European hop varieties that offer herbal, floral, and some spice character. Learn More

Tasting Notes

CrispLightrefreshing
Singha Pale Lager is manufactured in Thailand by the Singha Corporation Co. Ltd., a subsidiary of its parent company, Boon Rawd Brewery.
Tasting Notes
Starting with a hint of sweetness its taste moves through to earthy and spicy flavours. This exceptional taste is combined with distinct floral, herbal and peppery aromas. It is very smooth and full bodied yet has an exciting carbonation and a clean finish.
Method
This is a sub-style of lager that has changed over the years from its humble German roots to become the most popular style of beer in the world. Brewed with only pale malt for delicate malt flavours, and subtly balanced with European hop varieties that offer herbal, floral, and some spice character.
Singha is in the Pale Lager style, that is brewed with 100% premium barley malt, double hopped with Saaz from Europe, and 100% fresh water. The brew is golden yellow in color, full-bodied and rich in taste, with strong hops character.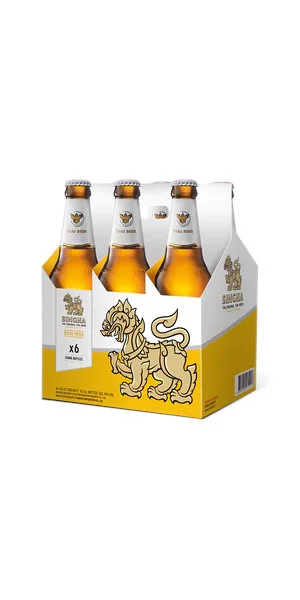 You may also like...
Express Shipping!
For select shipping postal codes, this product may be eligible for Express Delivery! Click here to learn more.