Tanner Brewing Co. – German Altbier (473ml)
Beer Style

AltbierStriking a balance between hop and malt flavours, these beers can have low fruity esters and some peppery yeast notes, too. Learn More

Tasting Notes

BalancedBitterMalty
After years in the restaurant industry, Dan Tanner started to shift his focus to wine, and while enrolled in sommelier classes, he began to take interest in beer. Fast forward – after a few years of slow growth from his garage, to farmers markets, to recently, a taproom in Chester, Dan has certainly taken the time to do things right. His beers are always a joy to drink, when you can find them. Bishops Cellar is very happy to finally be able to showcase Tanner Brews to even more folks around the province!
Tasting Notes
Altbier is one of the few styles that's truly a split between hops and malt in an almost 50/50 ratio. Herbal and pepper notes mingle with toasted brown bread, chestnuts, and caramel that's backed by very subtle fruit esters. The palate sees many of the same flavours, and the mouthfeel is light, thanks to the lagering process. This Altbier finishes dry with firm bitterness that's perfectly balanced by some residual malt sugars.
One of the best multipurpose food pairing beers, try this with anything that's roasted, braised, sautéed, or baked.
Method
Altbier is one of Germany's best beer styles. Originally from the city of Düsseldorf, it is an amber coloured ale that has been fermented at cooler temperatures (like a lager), and then left to cold condition (also like a lager) for long periods of time. This process creates a finished beer that drinks a lot like, you guessed it, a lager. Crisp, light, refreshing, and endlessly drinkable.
Tanner's Altbier is a version of Altbier called a Sticke Alt. This classic style differs from a traditional Altbier by being darker, fuller bodied and more intense in flavor with higher bitterness to balance out the caramel & molasses flavours. This is a style of Alt that was brewed once a year in its home city as a celebratory beer, but has since been adopted by craft brewers as a unique take on a classic style.
Our Thoughts
One of my favourite local amber beers. Altbier is so perfectly balanced between malt and hop character; nutty, brown bread aromas mix with herbal peppery spice and noticeable bitterness to dry out the rich malt profile. This beer is lagered which helps produce a lighter, more crisp and clean texture- easier for drinking!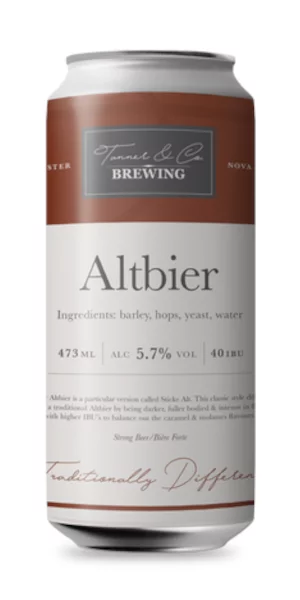 You may also like...
Express Shipping!
For select shipping postal codes, this product may be eligible for Express Delivery! Click here to learn more.