Tornatore Etna Bianco (750ml)
Farming Method

ConventionalMost products with this label come from producers who do their best to avoid any intervention at all but it's possible that some of the aforementioned preventative measures and additions are deemed necessary. Learn More

Food Pairing

Fish & ChipsChickenSeafood Pasta Dishes
A rising star in the Etna region, Tornatore is becoming one of the region's biggest and most respected wineries. Their vineyards are located at an altitude of 1,000 meters above sea level on the north side of this active volcano.
Out of a Sicilian family heritage that traces back to the 17th century, the Tornatore's Mount Etna wine ventures began in 1865. Today the family's operations are headed by Giuseppe Tornatore, a businessman whose expertise led to the acquisition of some of the region's finest north-facing vineyards in the early 2000's. That heritage and the Tornatore's profound respect and understanding of the land is showcased in wines that capture the essence of Etna, deftly balancing concentrated flavors, complexity, freshness and refinement.
The company lies in the northern side of Mount Etna, the highest active volcano in Europe. The soils have volcanic origin and were created through the disintegration of lava, ash and stones from previous volcanic eruptions. The climate on the northern side of the Etna is characterized by mild temperatures, and more rain fall reflecting the influence of the Volcano. The combination of soil, climate and the skill of the winemakers, have made the northern slope of Etna an ideal area for the production of high-quality wines. "Our vineyards and our winery are only a few kilometers from our family home. Our entire family is rooted there. We have the greatest respect for this region, and we believe we have a responsibility to be stewards of Etna and to reflect its distinct character in our wines." – Giuseppe Tornatore
Tasting Notes
The wine offers pleasant hints of grapefruit, white peach and herbs on the nose. The palate has a lovely texture and freshness complemented by an extraordinary minerality.
It is perfect with young and medium-aged cheeses, poultry and fish.
Method
This Etna Bianco is made with the indigenous grape Carricante aged in concrete vats.
Our Thoughts
Made from Carricante grapes – the idigenous varietal almost exclusively confined to Silicy's still-active volcano Mount Etna, Tornatore's offering boasts grapefruit, lemon-lime citrus, some stone fruits, fresh herbs, mouthwatering acidity and firm minerality. To put it simply, this wine does an excellent job of transporting you to Sicily! Volcanic soils + the fact that these grapes do so well grown at high altitudes (2,000m above sea level), there's no wonder as to why this offers so much complexity and balance for the money. Pair this with a fresh clam pasta dish, poached white fish, or even grilled artichokes.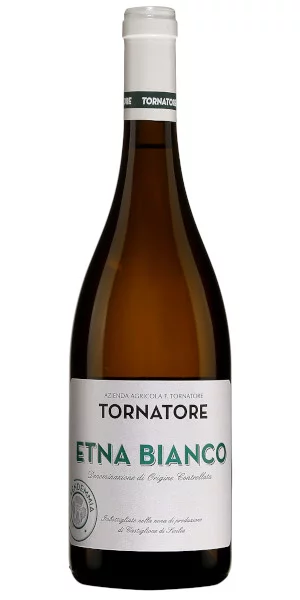 You may also like...
Express Shipping!
For select shipping postal codes, this product may be eligible for Express Delivery! Click here to learn more.