Wild – Full Boar Cider (473ml)
Sub-Region

Annapolis Valley

Tasting Notes

ComplexDryrich
For centuries in the Annapolis Valley, farmers have pressed apples and fermented the juice in cool cellars over many months as a means of preservation and to yield a diverse range of cider refreshments. Wild Wines & Spirits uses native and selected yeasts to ferment pure apple juice, pressed on-site from apples they hand pick themselves. The cider is fermented slowly over the cool winter months, aged in barrels and tanks, then blended and bottled the following year.
Tasting Notes
A full-strength, rugged cider partly aged in Bourbon barrels. Elevated alcohol and spice notes make this cider stand out from the crowd. This tawny-coloured cider offers notes of ripe, cellared apples, baked spiced apple, a subtle oakiness, and a spirituous, dry finish.
Method
A field blend of Russet, Spy, Honeycrisp, and Spartan apples harvested late in the 2019 season was pressed, cryo-concentrated in the early winter, then fermented slowly with native yeasts. After two years aging in bourbon casks, Full Boar was then blended with other barrel-aged ciders from 2018 and 2020 vintages.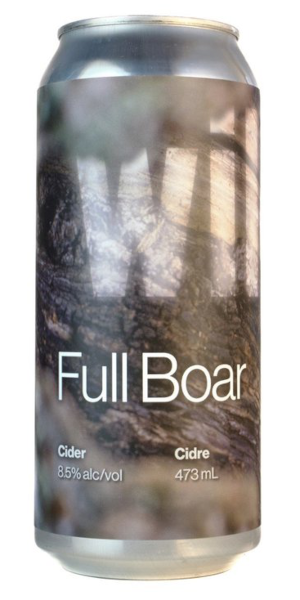 You may also like...