Grand Pre Tidal Bay (750ml)
Farming Method

ConventionalMost products with this label come from producers who do their best to avoid any intervention at all but it's possible that some of the aforementioned preventative measures and additions are deemed necessary. Learn More

Food Pairing

Cold SaladsLobsterSeafood
Domaine de Grand Pré makes polished and elegant Nova Scotian wines. The Domaine is known for its crisp and clean flavour profile and they pride themselves in using only 100 per cent Nova Scotian grown grapes. They grow specialty grapes that were developed for the Nova Scotian climate and landscape and the resulting wines wine awards year after year.
Tasting Notes
This is an off-dry white wine that offers aromas of peach and candied ginger, with hints of minerality and fresh grass after the rain. Flavours of green apple transition to notes of citrus that are bright yet elegant. Although refreshingly crisp, the wine has a satisfying roundness that adds to the overall complexity and is a great pairing for any Nova Scotia seafood dish.
"It reminds me a bit of a Sauvignon Blanc in the taste profile. We reduced the Muscat component but it still shows the tropical fruit characteristic in the background. But the more prominent flavours are like green apple, lime and gooseberry. Overall just very aromatic and refreshing." -Jurg Stutz, Winemaker at Domaine de Grand Pre
Method
Grapes: A blend of L'Acadie Blanc, Seyval Blanc, Vidal Blanc, Ortega, New York Muscat, and, for the first time, Chardonnay.
To earn the Tidal Bay designation, all wines must follow a strict set of technical standards that are enforced throughout the winemaking process- from growing to bottling and more.
These standards were created by a committee of winemakers, sommeliers and wine experts.
Express Shipping!
For select shipping postal codes, this product may be eligible for Express Delivery! Click here to learn more.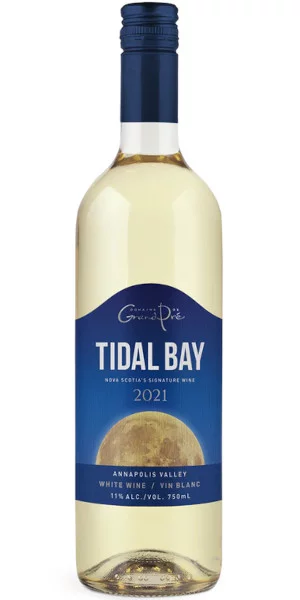 You may also like...