Sol – Lager Beer 12pk (4260ml)
Beer Category

Commercial Lager

Beer Style

Pale LagerBrewed with only pale malt for delicate malt flavours, and subtly balanced with European hop varieties that offer herbal, floral, and some spice character. Learn More

Region

Greater Mexico City

Tasting Notes

CrispLightSmooth
First brewed in Mexico in 1899, the Sol Cerveza brand is owned by the large Cervecería Cuauhtémoc Moctezuma, which is in turn owned by Heineken. The Cervecería Cuauhtémoc Moctezuma company also brews Tecate, Carta Blanca, Indio, and Dos Equis.

Tasting Notes
Pouring a crystal clear brilliant gold colour with long lasting white foam. This lager has subtle aromas of freshly baked bread, honey, and a floral and herbal hop aroma. The palate drinks very smooth and is balanced nicely thanks to refreshing carbonation and just the right amount of bitterness.
Method
A Pale Adjunct Lager brewed with corn in the mash mill, the addition of flaked corn helps contribute fermentable sugars without adding flavour to the finished beer. It also produces a beer with lighter mouthfeel than a beer brewed with just barley malt.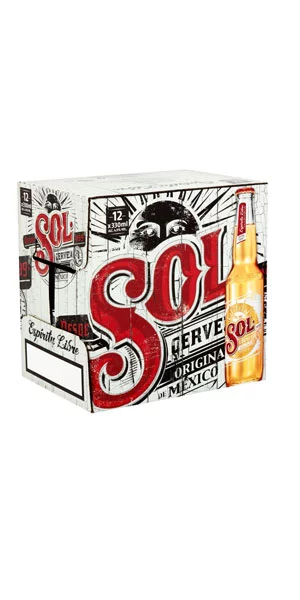 You may also like...
Express Shipping!
For select shipping postal codes, this product may be eligible for Express Delivery! Click here to learn more.