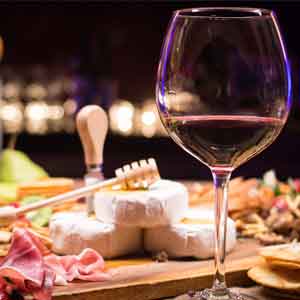 Food Pairings
Together wine and food can create the perfect marriage of flavours. The experience of food and the experience of wine brought together make for a special experience.
Our food and wine pairing section is full of general pairing information, while each individual wine listing has suggested pairings for the specific wine.
Although wine and food pairings can be completely subjective to the individual, here are 4 simple guidelines that you can follow when considering what wine to choose for dinner:
Pick a wine to complement or contrast with the meal
To complement a dish with wine you must first take into consideration the intensity of the dish and the flavor of the wine. Pairing food and wine in this manner will actually offer a heightened intensity to the dish. For example an earthy Pinot Noir will complement the flavors in an earthy mushroom dish.
Alternatively, you can also select a wine with flavors, weight and texture that contrast your main dish. This will increase the prominent flavors of the dish and create a refreshing sensation for the palate. A great example would be a dry, crisp Riesling with a rich and creamy pasta dish.
Regional food to regional wine
Historically, and still continuing today, wines are typically enjoyed within the region they are produced and paired with traditional local dishes. A perfect example can be found right here in Nova Scotia. Our crisp and mineral whites are the perfect choice for local Digby Scallops. When in doubt, choose local.
Color of meat goes with colour of wine
Matching color may be the easiest wine and food pairing rule to remember. If enjoying a white fish/meat, such as chicken, drink white wines. When eating red meats, like beef and game, it's usually a safe bet to drink red wine. Be cautious with the weight of the wine when making your selection; a rich, oaky chardonnay may actually overpower a delicately prepared piece of fish.
Sparkling wines are very versatile
When in doubt drink sparkling wine. The combination of the light flavors, vibrant acidity and effervesce make sparkling an almost fool proof option to pair with food. It's especially fun to try with the most unlikely of pairings. Next time you pick up a bottle of Nova Scotian sparkling grab some potato chips. The acidity and saltiness work surprisingly well together.