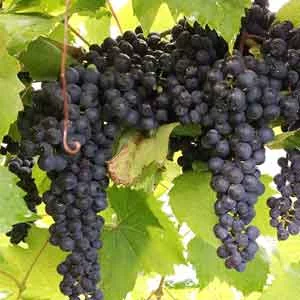 Baco Noir
Baco Noir is a French-American hybrid grape that is produced from a cross of a French Vitis Vinifera and a North American Vitis Riparia varietals. Baco Noir was once commonly grown in France, but is now is restricted (along with other hybrids) from commercial use by European Union regulations.
In 1951 the variety was brought to Canada and is now commonly grown in Ontario, Nova Scotia, and British Columbia. Baco Noir is an early ripening, winter-hardy varietal suited to Canada's cold climate. It has become Canada's most successful red hybrid wine.
Baco Noir is a rustic wine that is naturally low in tannin, though it has a juicy acidity. Wines produced from this grape can benefit from oak aging for added structure.