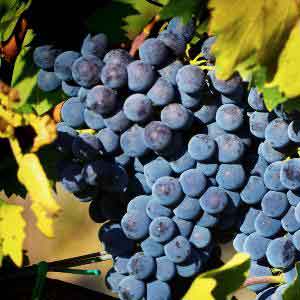 Sangiovese
Sangiovese is Italy's most widely planted red grape variety, grown mostly in the central regions under a host of different names. Sangiovese is the main grape of Chianti, Chianti Classico and Chianti Classico Riserva. Clones of Sangiovese make up the wines of Brunello (Sangiovese Grosso/Brunello clone) and Vino Nobile di Montipulciano- made from the Prugnolo Gentile clone.
Not only does Sangiovese shine on its own in Italy, but it is also the primary blending grape for the famous Super-Tuscan wines where it is blended with Cabernet Sauvignon or Merlot to produce blockbuster red blends.
Sangiovese is a late ripening grape that can sometimes even struggle to ripen under the hot Italian sun.