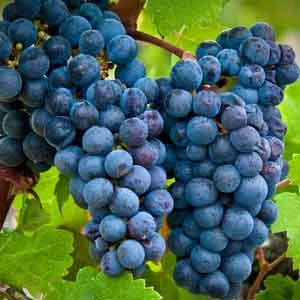 Cabernet Sauvignon
Cabernet Sauvignon has put down roots just about everywhere grapes grow and has become a component of many of the world's most popular wines. Although the exact origin of the grape is unknown, it is the Bordeaux region of France that has made it famous. Cabernet Sauvignon is a small and tough skinned grape that is less susceptible to vine diseases, which results in an easy to grow varietal.
Despite its hardiness, Cabernet Sauvignon is one of the last grapes to ripen- usually ripening 1-2 weeks after most varietals. When Cabernet grapes fail to completely ripen, the wines often can show a 'green' characteristic of bell peppers and other vegetal flavours. In Bordeaux, Cabernet Sauvignon is often blended with Merlot and Cabernet Franc to help round out the wine when it doesn't fully ripen in cooler years.
Cabernet Sauvignon is a high tannin grape and is best fermented and/or aged in oak. This combination results in a full bodied highly tannic wine that when made well can age.