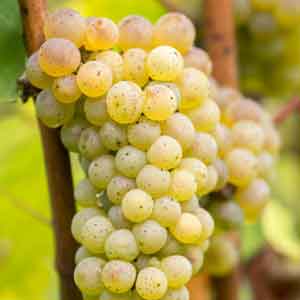 Riesling
Riesling (Rees-ling) is most associated with its native Germany, though it is now planted in many wine growing regions the world over. Not all Rieslings are alike; this grape can make geographically expressive wines with a broad spectrum of aromas and flavours and a variety of sweetness levels. So open your mind and prepare to expand your sense perceptions as we explore this amazingly versatile grape.
Riesling makes pale, lemony-green coloured wines that deepen in intensity with age. Yes – the best Rieslings can develop many years in the bottle. Much of the pleasure of drinking Riesling comes from the experience of smelling the wine because it really does smell like flowers and orchards – it is an intensely aromatic grape.
The wine's aroma, mouthfeel, and flavour also depend on where the grapes ripen. Riesling grown in cool climates (parts of Germany or Canada for example) will have more fresh grape and green apple characteristics. Across the German border in France, Rieslings from Alsace are usually riper, generally making the wines drier and weightier with more citrus, stone fruit and honeyed notes. Warmer regions tend to produce softer style wines with ripe tropical fruit notes. Each region has its own distinctive style.