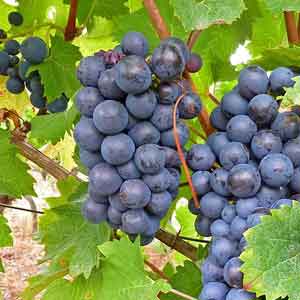 Gamay
Gamay is a very old grape dating back to at least the 15th century. The vines produce an abundance of fruit and generally are used to create the soft and fruit forward wines of Burgundy's Beaujolais region. With light oak ageing, Gamay can also produce a richer style of wine especially in the Cru areas of Beaujolais, like Moulin à Vent and Morgon.
Gamay is also grown in the Loire Valley (around Tours) where it is utilized to make rose wines and the blended reds of Anjou and Saumur. Wineries in North America, most notably those hailing from Ontario and Napa Valley, also produce interesting Gamay wines.
This grape is best enjoyed young, where its soft tannins and refreshing acidity complement light fare. Gamay lends itself well to many foods and occasions, it can be best enjoyed slightly chilled.