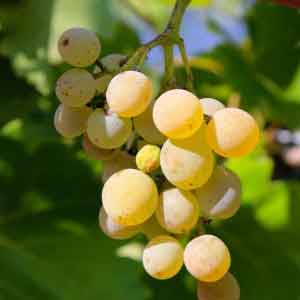 Sémillon
Originating in the Bordeaux region of France, Sémillon is a golden yellow grape that plays a starring role in producing some of the world's best dessert wines.
Sémillon produces large berries and thin skin, therefore susceptible to a form of rot called Botrytis known as "noble rot". When affected, the grapes shrivel up like raisins and lose water ensuring the juice is incredibly concentrated and sweet, while retaining vibrant acidity that contributes to the wine's crispness.
In Bordeaux, Sémillon is often blended with Sauvignon Blanc to produce dry white Bordeaux and Sauternes, the world-famous Botrytis affected sweet wine. Properly made Sauternes have the ability to age for over 100 years, due to the combination of racy acidity and high residual sugars.
Sémillon has put down roots in Australia's Hunter and Barossa Valleys. In New South Wales it was once known as Hunter Valley Riesling because aged Sémillon can sometimes reveal steely, 'diesel fuel' characteristics associated with mature Riesling. In Australia as well, Sémillon is also often blended with Sauvignon Blanc or Chardonnay.